Experiential Marketing and Customer Satisfaction: A Study on the Restaurant Industry of Bangladesh
Keywords:
Experiential marketing, Customer satisfaction, Restaurant industry, Bangladesh
Abstract
This research report aims to explore the factors of experiential marketing to determine their impact on customer satisfaction in the restaurant industry of Bangladesh. Three Hypotheses were developed by the researcher to identify the factors of experiential marketing and their impact on overall customer satisfaction. The research study is conducted by a quantitative research approach to get the insights and understandings of experiential marketing and to figure out the strength of association between dependent and independent variables. Empirical data was gathered by the author himself from 150 respondents who were present in the restaurants at that time through the self-administered survey questionnaire. By applying a convenience sampling method, the researcher collected data from the respondents under different clusters. Researcher used regression and factor analysis to analyze the statistical data through the SPSS software. The research concluded with the significant positive relationships of sense experience, feel experience, and think experience with customer satisfaction. The outcome of the study will assist managers, restaurant owners and, decision makers with the insights and understanding of experiential marketing and its influence on customer satisfaction.
Downloads
Download data is not yet available.
References
Bagozzi, R. (1992). The Self-Regulation of Attitudes, Intentions, and Behavior. Social Psychology Quarterly, 55(2), 178. doi: 10.2307/2786945
Hosany, S. and Martin, D., 2012.Self-image congruence in consumer behavior. Journal of Business Research, 65(5), pp.685-691.
Jin, N., Line, N.D. and Goh, B., 2013. Experiential value, relationship quality, and customer loyalty in full-service restaurants: The moderating role of gender. Journal of Hospitality Marketing & Management, 22(7), pp.679-700.
Lee, M.S., Hsiao, H.D. and Yang, M.F., 2010. The study of the relationships among experiential marketing, service quality, customer satisfaction and customer loyalty. International Journal of Organizational Innovation, 3(2).
Lin, K. M., Chang, C. M., Lin, Z. P., Tseng, M. L., & Lan, L. W. (2009). Application of experiential marketing strategy to identify factors affecting guests' leisure behaviour in Taiwan hot-spring hotel. WSEAS transactions on business and economics, 6(5), 229-240.
McCole, P., 2004. Refocusing marketing to reflect practice: The changing role of marketing for business. Marketing Intelligence & Planning, 22(5), pp.531-539.
Pantelidis, I.S., 2010. Electronic meal experience: A content analysis of online restaurant comments. Cornell Hospitality Quarterly, 51(4), pp.483-491.
Phil Klaus, P. and Maklan, S., 2012. EXQ: a multiple-item scale for assessing service experience. Journal of Service Management, 23(1), pp.5-33.
Rageh Ismail, A., Melewar, T.C., Lim, L. and Woodside, A., 2011. Customer experiences with brands: Literature review and research directions. The Marketing Review, 11(3), pp.205-225.
Ryu, K., Lee, H.R. and Gon Kim, W., 2012. The influence of the quality of the physical environment, food, and service on restaurant image, customer perceived value, customer satisfaction, and behavioral intentions. International Journal of Contemporary Hospitality Management, 24(2), pp.200-223.
Schmitt, B., 1999. Experiential marketing. Journal of marketing management, 15(1-3), pp.53-67.
Yuan, Y.H.E. and Wu, C.K., 2008. Relationships among experiential marketing, experiential value, and customer satisfaction. Journal of Hospitality & Tourism Research, 32(3), pp.387-410.
--0--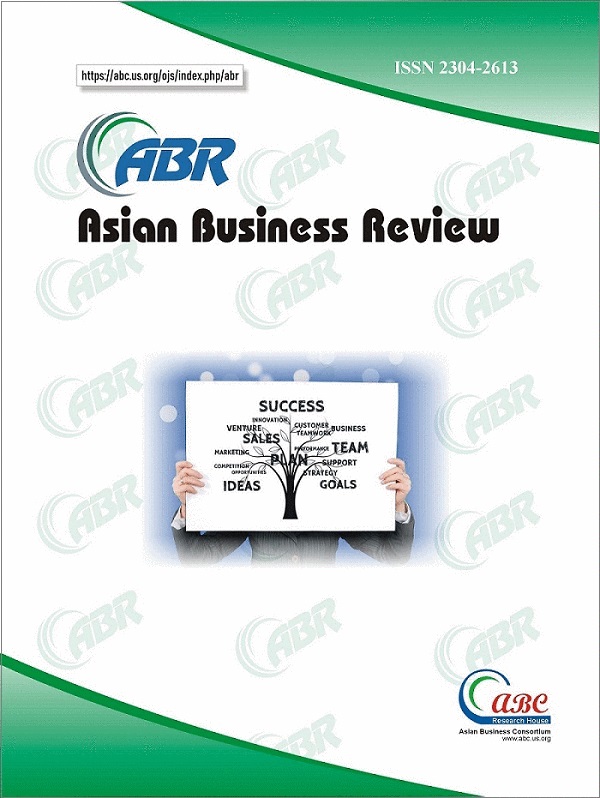 How to Cite
Amin, S., & Tarun, M. T. (2019). Experiential Marketing and Customer Satisfaction: A Study on the Restaurant Industry of Bangladesh. Asian Business Review, 9(2), 43–48. https://doi.org/10.18034/abr.v9i1.251
License
Asian Business Review is an Open Access journal. Authors who publish with this journal agree to the following terms:
Authors retain copyright and grant the journal the right of first publication with the work simultaneously licensed under a CC BY-NC 4.0 International License that allows others to share the work with an acknowledgment of the work's authorship and initial publication in this journal.
Authors are able to enter into separate, additional contractual arrangements for the non-exclusive distribution of the journal's published version of their work (e.g., post it to an institutional repository or publish it in a book), with an acknowledgment of its initial publication in this journal. We require authors to inform us of any instances of re-publication.