Perceived Corporate Glass Ceiling: A Survey Research in Bangladesh Corporate Job Sectors
Keywords:
glass ceiling, women, stereotypical view, discriminatory practice
Abstract
The study investigated the perceived corporate glass ceiling and measured the leading factors of the glass ceiling according to gender, company types, and years of work experience. 257 adult male and female employees participated in this study as respondents, and they were from four districts of Bangladesh working in banks, multinational companies, private firms, and telecommunication sectors following a convenient sampling technique. The results revealed that 60.7% of the respondents perceived a glass ceiling exists in the workplace of Bangladesh. The researchers used mean of means analysis to compare the perceptual differences regarding the leading factors of glass ceiling according to gender, company types, and working experience and found work-life conflict as the most important factor for causing the glass ceiling. 
Downloads
Download data is not yet available.
References
Afza, S.R., & Newaz, M.K. (2008). Factors Determining the Presence of Glass Ceiling and Influencing Women Career Advancement in Bangladesh. BRAC University Journal, 5(1), 85- 92.
Ahmad, M. & Naseer, H. (2015). Gender Bias at the Workplace: Through Sticky Floor and Glass Ceiling: A Comparative Study of Private and Public Organizations of Islamabad. International Journal of Management and Business Research, 5(3), 249-260.
Baker, B & Lightle, S. S. (2001). Cracks in the Glass Ceiling: An Analysis of Gender Equity in the Federal Government Auditing Career Field. The Journal of Government Financial Management, 50(3), 18-26.
Eleanor, W. (2014). Diversity Culture and the Glass Ceiling. Journal of Cultural Diversity, 21(3), 83-9.
Farhana, H. & Stephen, C. D. (2019). The Energy of Corpuscular Wave Mechanism. Int J Conf Proc. 1(2). ICP. 000509.2019.
Habib, L. (2015). A Study on the Existence of the Glass Ceiling in the Telecommunication Sector of Bangladesh. IOSR Journal of Business and Management, 17(12), 34-38.
Islam, M., Jantan, A., Hashim, H., Chong, C., & Abdullah, M. (2018). Factors Influencing Female Progression in Leadership Positions in the Ready-Made Garment (RMG) Industry in Bangladesh. 1. 1-13.
Islam, M. & Jantan, A. (2017). The Glass Ceiling: Career Barriers for Female Employees in the Ready-Made Garments (RMG) Industry of Bangladesh. Academy of Strategic Management Journal. 16. 1939-6104. 10.2139/ssrn.3414583.
Khan, S. R. (2001). The Socio-Legal Status of Bengali Women in Bangladesh: Implications for Development. Dhaka University Press.
Liff, S. & Ward, K. (2001). Distorted Views through the Glass Ceiling: The construction of Women's Understandings of Promotion and Senior Management Positions. Gender, Work & Organizations. 8(1), 19-36.
Nazmul, A. K., Islam, N., & Alam, M. M. (2016). Glass Ceiling Factors, Job Satisfaction, and Job Switching Decisions of Female Employees in Private Sector Enterprises of Bangladesh. The Business Review. 5, 79-97. ISSN: 1996-3637.
The Gender Gap Index (2017). World Economic Forum. Retrieved from: http://www,weforum.org/reports/the-global-gender-gap-report-2017.
--0--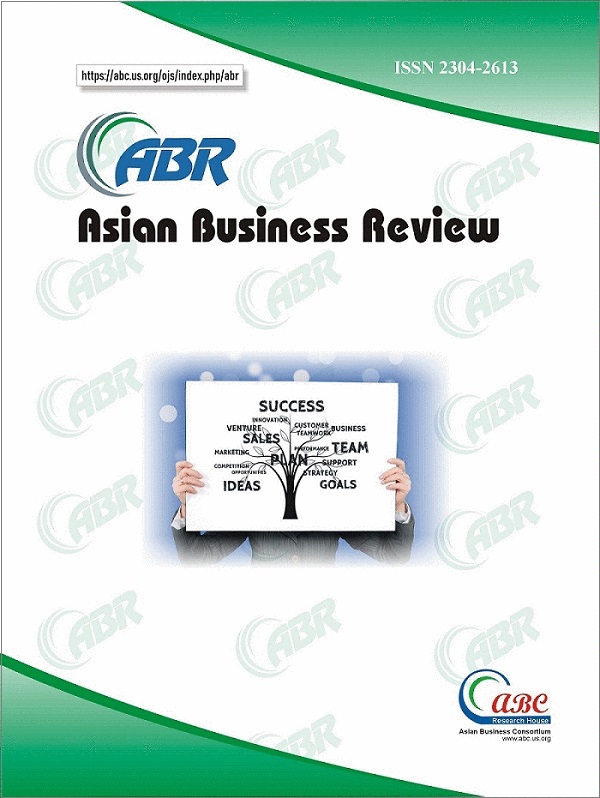 How to Cite
Karmaker, C. ., & Fatema, K. . (2020). Perceived Corporate Glass Ceiling: A Survey Research in Bangladesh Corporate Job Sectors. Asian Business Review, 10(3), 153–158. https://doi.org/10.18034/abr.v10i3.483
License
Asian Business Review is an Open Access journal. Authors who publish with this journal agree to the following terms:
Authors retain copyright and grant the journal the right of first publication with the work simultaneously licensed under a CC BY-NC 4.0 International License that allows others to share the work with an acknowledgment of the work's authorship and initial publication in this journal.
Authors are able to enter into separate, additional contractual arrangements for the non-exclusive distribution of the journal's published version of their work (e.g., post it to an institutional repository or publish it in a book), with an acknowledgment of its initial publication in this journal. We require authors to inform us of any instances of re-publication.