Empowering Women through E-Business: A Study on Women Entrepreneurs in Dhaka City
Keywords:
Empowerment, Entrepreneurship, Self-worth, e-business, Bangladesh
Abstract
This paper tries to evaluate the effectiveness of e-business on the empowerment of women. A survey has been administered to identify the effects of Women Entrepreneurship through e-business on Women Empowerment related attitudes. I have collected data through a semi-structured questionnaire from a sample of 100 women entrepreneurs operating online businesses located in Dhaka city. 15 employees' personally interviewed and other 85 respondents were surveyed through e-mail and social network sites. The findings of the study indicate various factors about women empowerment. Results reveal that indicators of women empowerment are mainly (1) Economic Freedom, (2) Greater social independency & acceptability, and (3) Sense of self-worth. Twenty questions are developed to evaluate the effectiveness of e-business on the empowerment of women for mentioned three indicators. The findings of this study reveal that e-business is a powerful tool in enhancing women empowerment. Women believe that e-business is one of the easiest ways to become entrepreneur which is in turn empowering them in different social issues.
Downloads
Download data is not yet available.
References
Ahmed S. I. and Adib S. (2016)- E-Commerce in Bangladesh- Center for Enterprise and Society
Bisht, N. S. and Sharma, P. K. (1991), Entrepreneurship Expectation and Experience, 2nd Ed. Bombay: Himalaya Publishing House, vol. 2, pp 23-24.
Bisnath, S., and Elson, D. (2000). Women's empowerment revisited. Background Paper for Progress of the World's Women
Boserup, E. (1970). Women's role in economic development. London: Allen and Unwin.
Elson, D. (Ed.). (1995). Male bias in the development process. Manchester: Manchester University Press.
Geetha S. N and Barani G. (2012) Empowering Women through Entrepreneurship: A study in Tamil Nadu, India International Journal of Trade, Economics and Finance, Vol. 3, No. 2
Goswami, A., & Dutta, S. (2017). E-Commerce Adoption by Women Entrepreneurs in India: An Application of the UTAUT Model. Business and Economic Research, 6(2), 440-454. doi:http://dx.doi.org/10.5296/ber.v6i2.10560
Jan, M. and Shar, N (2008), "Entrepreneurship and Women Empowerment", Sarup and Sons Publishers.
Malhotra, A., and Schuler, S. R. (2005). Women's empowerment as a variable in international development. Measuring Empowerment: Cross-Disciplinary Perspectives, ,71-88.
Marchand, M., and Parpart, J.L. (Eds.). (1995). Feminism/ Postmodernism/Development. London and New York: Routledge.
Mat, I. E. N. and Razak, R. C. 2011. Attributes, Environment Factors and Women Entrepreneurial Activity: A Literature Review. Asian Social Science 7(9), pp. 124-130.
Meenakshi. 2015. Factors Influencing the Women in E- Entrepreneurship. International Journal of Business Management and Scientific Research 12, pp. 53-63.
Mellita, D., and Cholil, W. (2012). E Commerce and Women Empowerment: Challenge for Women-Owned Small Business in Developing Country. International Conference on Business Management and IS (Vol. 1, No. 1).
Midgley, J. (2003). Social development: The intellectual heritage. Journal of International Development, 15(7), 831-844.
Minniti, M. (2009) Gender Issues in Entrepreneurship, Now Publishers, 01-Dec-2009.
Minnitti, M., Arenius, P., and Langowitz, N. (2005). Report on women and entrepreneurship. Global entrepreneurship monitor. The Center for Women's Leadership at Babson College, Wellesley, MA.
Mitchell, B. C. (2004). Motives of entrepreneurs: A case study of South Africa. Journal of Entrepreneurship, 13(2), 167-183
Nussbaum, M. (2001). Women and human development. Cambridge: Cambridge University Press.
Sebora, T. C., Lee, S. M., and Sukasame, N. (2009). Critical success factors for e-commerce entrepreneurship: an empirical study of Thailand. Small Business Economics, 32(3), 303-316.
Sen, A. (2000). Development as freedom. New York: Anchor Books.
Singh, S. P. (2008), An Insight Into The Emergence Of Women-owned Businesses As an Economic Force in India, presented at Special Conference of the Strategic Management Society, December 12-14, 2008, Indian School of Business, Hyderabad
Singla, B. K. and Syal P. (1998), "Group entrepreneurship for women, entrepreneurship and small business," in Proc. of the 4th Ed., Jaipur Rawat Publications, vol. 3, pp 47- 48,.
Speer, P. W., and Hughey, J. (1995). Community organizing: An ecological route to empowerment and power. American Journal of Community Psychology, 23(5), 729-748.
www.dhakatribune.com/business/commerce/e-commerce-boost-economic-growth
Zimmerman, M. A. (1990). Taking aim on empowerment research: On the distinction between individual and psychological conceptions. American Journal of Community Psychology, 18(1), 169-177.
--0--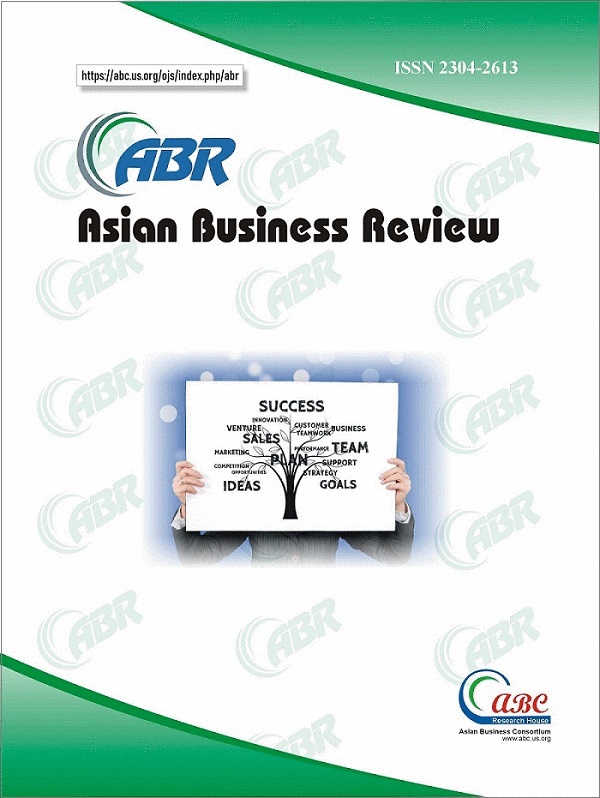 How to Cite
Hossain, T. (2018). Empowering Women through E-Business: A Study on Women Entrepreneurs in Dhaka City. Asian Business Review, 8(3), Art. #21, pp. 153–160. https://doi.org/10.18034/abr.v8i3.167
License
Asian Business Review is an Open Access journal. Authors who publish with this journal agree to the following terms:
Authors retain copyright and grant the journal the right of first publication with the work simultaneously licensed under a CC BY-NC 4.0 International License that allows others to share the work with an acknowledgment of the work's authorship and initial publication in this journal.
Authors are able to enter into separate, additional contractual arrangements for the non-exclusive distribution of the journal's published version of their work (e.g., post it to an institutional repository or publish it in a book), with an acknowledgment of its initial publication in this journal. We require authors to inform us of any instances of re-publication.