Ways to Uplift the Image of Tourism Sector of Bangladesh: Some Strategic Guidelines
Keywords:
Tourism, Bangladesh Parjaton Corporation, Archaeological Site, Sustainable Tourism, Bangladesh
Abstract
This study aims to inject some strategic guidelines to build a better image of Bangladesh as a tourist destination. I have conducted the investigation from both a theoretical and an empirical viewpoint. A two-stage systematic random sampling design is used to select about 100 respondents from foreign and local tourist. I have analyzed data by using the qualitative method. The tourism sector in Bangladesh is far behind from reaching its goal due to the inability to draw the attention of a good number of local and foreign tourists. This low rate of tourist attraction towards Bangladesh is mainly for image crisis and inadequate promotional measures of the tourism sector. In addition to that the security concern, the recent recurrent attack of the Islamic militant, infrastructure problem, wrongful reporting by international media and the perceived negative image by the potential tourists adversely affect the development of tourism in Bangladesh.
Downloads
Download data is not yet available.
References
Ali, M. & Mohsin, C. S. (2008). The Different Aspect of Tourism Marketing Strategies with specific reference to Bangladesh: An analysis. Business Review, A Journal of Business Administration, Khulna University, 6, (1).
Ali, M. (2004). Bangladesher Sadhana. (3rd Ed.), Dhaka: Student Ways.
Bangladesh Parjatan Corporation, Website: www.parjatan.gov.bd
Cevat, T. & Dallen J. T. (2001). Shortcomings in planning approaches to tourism development in developing countries: the case of Turkey. International Journal of Contemporary Hospitality Management, 13(7), 352.
Faulkner, B. (2001). Towards a framework for tourism disaster management. Tourism Management, 22 (2): 135-147. Retrieved from- https://eurekamag.com/pdf/003/003599852.pdf
Faulkner, B., & Russell, R. (1997). Chaos and complexity in tourism: In search of a new perspective. Pacific Tourism Review, 1, 93–102.
Fearn-Banks, K. (1996). LEA's communication series. Crisis communications: A casebook approach. Hillsdale, NJ, US: Lawrence Erlbaum Associates, Inc. Retrieved from-https://epdf.tips/crisis-communications-a-casebook-approach-3rd-edition-Routledge communication-se.html
Gunn, C.A. & Var, T. (2002). Tourism planning; basics, concepts, and cases (4th ed.). London: Routledge.
Hossain, M. A., & Sultana, N. (2006). Building an Image of Bangladesh as a Tourist Destination: Some Strategic Guidelines. DU Journal of Marketing.9.
Kotler, P., Bowen, J. & Makens, J. (2004). Marketing for Hospitality and Tourism, (3rd ed.). New Jersy: Pearson Education Inc.
Lerbinger, O. (1997). The Crisis Manager: Facing Risk and Responsibility. Tourism Management, 17, 51-55.
Magnussen, M. (2010). How to develop the Bangladeshi Tourism Sector. Bangladesh, Cooperation and network, Development, Education and qualification, Performance and management, Policy, Sustainability.
McLellan, R. W., & Foushee, K. D. (1983). Negative Images of the United States as Expressed by Tour Operators from Other Countries. Journal of Travel Research, 22(1), 2-5.
Money, B., and J. Crotts (2003). "The Effect of Uncertainty Avoidance on Information Search, Planning, and Purchases of International Travel Vacations."
Pyo, S.S., Mihalik, B.J. and Uysal, M. (1989), "Attraction attributes and motivations: a canonical correlation analysis", Annals of Tourism Research, Vol. 16, pp. 277-82. doi: 10.1016/0160-7383(89)90077-7
Selbst, P. (1978), in Booth, S. (1993). Crisis management strategy: Competition and change in modern enterprises. New York: Routledge.
Selby, M., & Morgan, N. J. (1996). Reconstruing place image. Tourism Management, 17(4), 287-294. Doi: 10.1016/0261-5177(96)00020-9
Shamsuddoha, M. (2004). Sustainability of Tourism Industry: Bangladesh Perspective. SSRN Electronic Journal. doi:10.2139/ssrn.1314779
Sharpley, R. (2005). Travels to the Edge of Darkness: Towards a Typology of "Dark Tourism." Taking Tourism to the Limits, 215-226. doi:10.1016/b978-0-08-044644-8.50023-0
Sirakaya, E., McLellan, R.W. and Uysal, M. (1996), "Modeling vacation destination decisions: a behavioral approach" Journal of Travel and Tourism Marketing, Vol. 5 No. 1-2, pp. 57-75. Doi : 10.1300/J073v05n01_05
Tosun, C. & Jenkins C.L. (1998), The evolution of tourism planning in third world countries: a critique, Progress in Tourism and Hospitality Research, 4 (2), 101-14.
--0--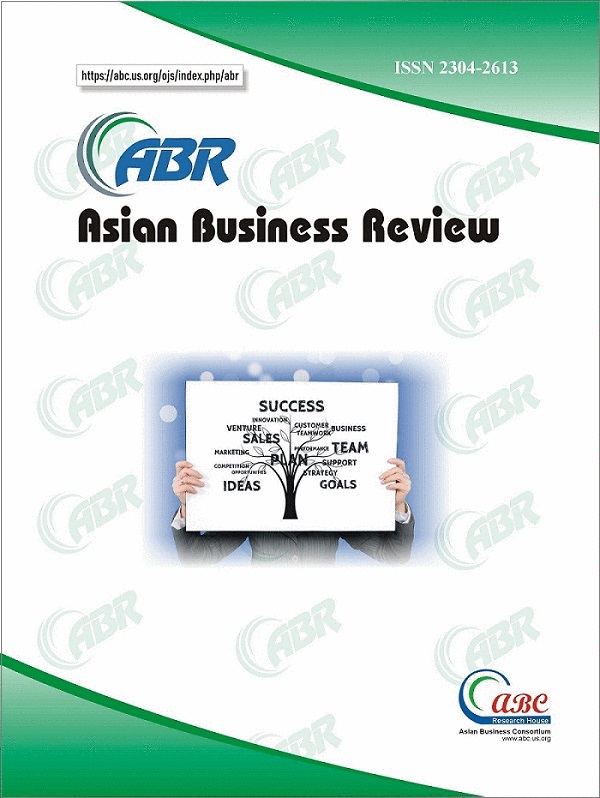 How to Cite
Islam, M. R. (2019). Ways to Uplift the Image of Tourism Sector of Bangladesh: Some Strategic Guidelines. Asian Business Review, 9(1), 23–26. https://doi.org/10.18034/abr.v9i1.241
License
Asian Business Review is an Open Access journal. Authors who publish with this journal agree to the following terms:
Authors retain copyright and grant the journal the right of first publication with the work simultaneously licensed under a CC BY-NC 4.0 International License that allows others to share the work with an acknowledgment of the work's authorship and initial publication in this journal.
Authors are able to enter into separate, additional contractual arrangements for the non-exclusive distribution of the journal's published version of their work (e.g., post it to an institutional repository or publish it in a book), with an acknowledgment of its initial publication in this journal. We require authors to inform us of any instances of re-publication.