Socio-Economic Responsibility of Pharmaceutical Companies: Bangladesh Case
Keywords:
Economy, Pharmaceutical, CSR, SPL, LDCs
Abstract
Bangladesh is a rustic of rising economy. The causes of its rising is high rate of industrialization and investment in different sectors. The pharmaceutical sector that is the second largest export earning source of the country after Ready Made Garments contributes almost 1% of the GDP and is currently the third largest tax paying sector in the country. Square Pharmaceutical Limited (SPL) the biggest name in the pharmaceutical sector of Bangladesh has a market share of 19.3% and the total exporting amount become BDT 1,137.99 millions in FY 2016-2017 that is 34.46% more than the previous year. This paper is almost done using the secondary data though a slight primary data is used where customer's choice is examined where the highest 38% of the customer like the brand name square. This study assessed and examined the role of pharmaceutical company to the economy of Bangladesh from the perspective of square pharmaceutical limited as the sample company. The researcher also investigates the corporate social responsibility activities played by the respective company. This paper will be useful to the pharmaceutical companies, concerned authorities, policy makers and the government to know the role of pharmaceutical sector and required initiatives to eliminate all the hindrances and resolve all the problems to make out pharmaceutical sector as a crucial actor in both domestic and international market.
Downloads
Download data is not yet available.
References
Akter, M.K. (2015). The pharmaceuticals industry of Bangladesh, Journal of Economics, Independent University, Vol. 08, Issue 04.
Anesary, M.A.W., Hossain, M. J., Mamun, M.R.A., Salam, M.G.A., Rahman, K. S., Morshed, M. M., Rahman, M. M., Akter, S., Waheduzzaman, M., Kabir, Z. M., Hassan, S., Laboni, S., Hossain, M. I. (2014), Pharmaceutical sector of Bangladesh: prospects and challenges, Internship Report, MBA (BRAC Business School), Retrieved September 4, 2018. URI: http://hdl.handle.net/10361/3220
Annual Report, Square Pharmaceutical Limited, 2014-2015, August, 2015.
Faroque, B.M. (2011). Biomedical consideration in the manufacture, clinical trial and bioequivalence studies of pharmaceuticals, Bangladesh Journal of Bioethics 2011 Vol. 2 Issue 1 Pp. 18-21.
Ishika, M. A. (2010). Trend analysis of generic shifting in the Bangladesh pharmaceutical market (2006-2010) employee organization: square pharmaceuticals ltd Bangladesh, BRAC School of Business, BRAC University, Bangladesh.
Islam, S., Rahman, A., & Mahmood, A. (2018). Bangladesh Pharmaceutical Industry: Perspective and the Prospects. Bangladesh Journal of Medical Science, 17(4), 519-525. doi: http://dx.doi.org/10.3329/bjms.v17i4.38306
Mazumder P.M. (2015), Recruitment & selection process of Square Pharmaceuticals Ltd., Internship Report, BBA (BRAC Business School), Retrieved September 5, 2018, URI: http://hdl.handle.net/10361/4134.
Sekaran, U. (2002) Research Methods for Business, John Wiley & Sons, Inc.: USA.
Sultana, J. (2016). Future Prospects and Barriers of Pharmaceutical Industries in Bangladesh. Bangladesh Pharmaceutical Journal, 19(1), 53-57. doi: http://dx.doi.org/10.3329/bpj.v19i1.29239
--0--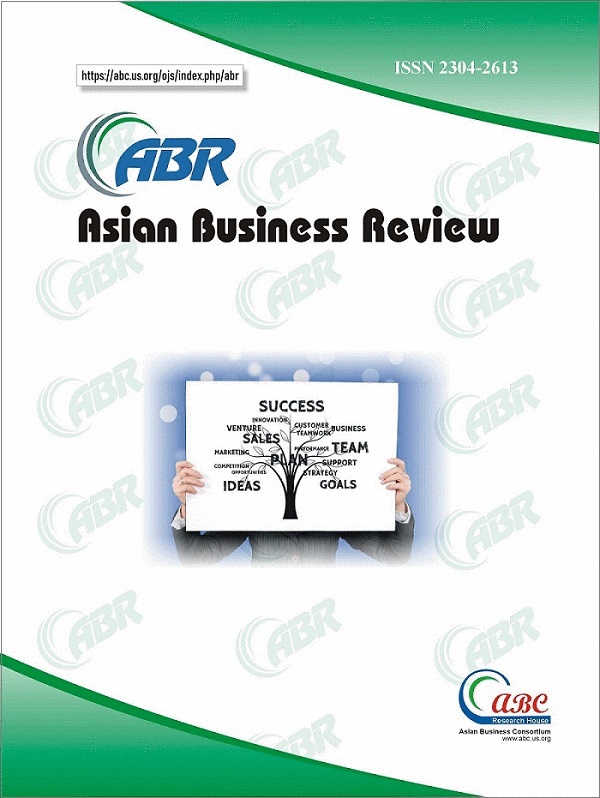 How to Cite
Akter, N. (2018). Socio-Economic Responsibility of Pharmaceutical Companies: Bangladesh Case. Asian Business Review, 8(3), Art. #19, pp. 137–142. https://doi.org/10.18034/abr.v8i3.165
License
Asian Business Review is an Open Access journal. Authors who publish with this journal agree to the following terms:
Authors retain copyright and grant the journal the right of first publication with the work simultaneously licensed under a CC BY-NC 4.0 International License that allows others to share the work with an acknowledgment of the work's authorship and initial publication in this journal.
Authors are able to enter into separate, additional contractual arrangements for the non-exclusive distribution of the journal's published version of their work (e.g., post it to an institutional repository or publish it in a book), with an acknowledgment of its initial publication in this journal. We require authors to inform us of any instances of re-publication.