Creditors Attitude towards Clients Sustainability Reporting Practices in India
Keywords:
Creditors, Corporates, Sustainability Reports, environment, Disclosure Practices
Abstract
The research is aimed at "To evolve a method of sustainability reporting practices for social expenditure incurred by business organizations so that the information to the creditor and stakeholders becomes "impact measurable" thereby, becomes more meaningful & relevant."Since sustainability reporting practices are getting more & more adopted by many companies there is a great need to come out with an appropriate method for reporting which may cover quantitative & qualitative aspects & also measure the impact of such contribution. In contrast to financial reporting,  the history of sustainability reporting  (SR)  is comparatively recent.  The proposition that organizations,  and business organizations  in particular,  should supplement their financial accounting with accounting on their environmental,  social and other  'non-financial'  performance  -  or  'sustainability reporting'. Responding to the increasing media attention to environmental problems, most reports focused on environmental policies and performance. This present research paper attempts to evaluate the Creditors' participation in framing sustainability reporting practices in India. Result Mean weighted score towards awareness on sustainable reporting practices (SRP) of their clients is 3.71, i.e.74.2 percent level of awareness that provides satisfaction on their client's repayment terms to the extent of 3.10 score or 62 percent only. Therefore, it can be concluded that the impact of sustainable reporting practices of SENSEX companies on their creditors' terms is significant statistically. Hence, it is suggested to the creditors to examine the variables (such as ASRP, PSA, and SDI) which have a negative impact on the creditors and further it should improve the variables (CEPCD, CSSR, G, AG & Q) which have a positive impact but not significant statistically.
Downloads
Download data is not yet available.
References
Amran, A., and Keat Ooi, S. (2014). Sustainability reporting: meeting stakeholder demands. Strategic Direction, 30(7), 38-41. doi: doi:10.1108/SD-03-2014-0035
Cormier, D., Ledoux, M., and Magnan M. (2011) "The informational contribution of social and environmental disclosures for investors", Management Decision, Vol. 49 No.8, pp.1276 – 1304.
Giovanni, P. D. (2012) "Do internal and external environmental management contribute to the triple bottom line?" International Journal of Operations & Production Management, Vol. 32 No.3, pp.265 – 290.
Haigh Matthew, Shapiro, Matthew A., (2011) "Carbon reporting: does it matter?" Accounting, Auditing & Accountability Journal, Vol. 25 No.1, pp.105 – 125.
Jain, R., & Winner, L. H. (2016). CSR and sustainability reporting practices of top companies in India. Corporate Communications: An International Journal, 21(1), 36-55. doi: doi:10.1108/CCIJ-09-2014-0061
Rao, K. K., Tilt, C. A., and Lester, L. H. (2012) "Corporate Governance and Environmental Reporting: An Australian Study", Corporate Governance, Vol. 12 No. 2, pp.143 – 163.
Tien-Shang, L. L. (2012) "The Pivotal Roles of Corporate Environment Responsibility", Industrial Management & Data Systems, Vol. 112 No. 3, pp.466 – 483.
--0--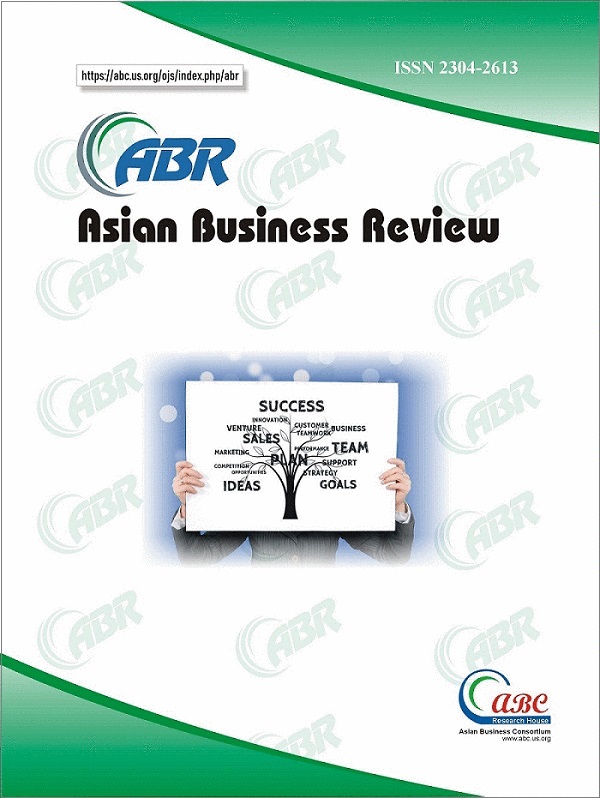 How to Cite
Venugopal, B. . (2019). Creditors Attitude towards Clients Sustainability Reporting Practices in India . Asian Business Review, 9(3), 121–128. https://doi.org/10.18034/abr.v9i3.339
License
Asian Business Review is an Open Access journal. Authors who publish with this journal agree to the following terms:
Authors retain copyright and grant the journal the right of first publication with the work simultaneously licensed under a CC BY-NC 4.0 International License that allows others to share the work with an acknowledgment of the work's authorship and initial publication in this journal.
Authors are able to enter into separate, additional contractual arrangements for the non-exclusive distribution of the journal's published version of their work (e.g., post it to an institutional repository or publish it in a book), with an acknowledgment of its initial publication in this journal. We require authors to inform us of any instances of re-publication.