Employer Branding Strategy: An Empirical Study on Private Banks in Bangladesh
Keywords:
Branding, Employer, Employer branding, Employer brand loyalty
Abstract
The Banking industry of Bangladesh is the most contributing sector in the growth of the country's economy. To grow and maintain this contribution, operating banks should be careful in talent hiring. Employer branding strategy (EB) helps in this regard by branding the employer's image particularly. This study aims to explore the current practice of EB strategy in private banks and the presence of its factors. This study showed that both employers and employees are not conscious of the term. Also, the presence of the factors in the organization is not satisfactory. This study provides suggestions in designing and implementing employer branding strategy consciously and in a planned way so that both employers and employees can reap the maximum benefits of EB strategy.
Downloads
Download data is not yet available.
References
Aaker, D. A. (1991). "Managing Brand Equity: Capitalizing on the Value of a Brand Name," The Free Press, New York, NY.
Ambler, T., and Barrow, S. (1996). "The Employer Brand," Journal of Brand Management, Vol. 4, No. 3, pp.185-206.
Backhaus, K., and Tikoo, S. (2004). "Conceptualizing and Researching Employer Branding," Career Development International, Vol. 9, No. 4/5, pp.501-517
Barrow, S. and Mosley, R. (2005) The Employer Brand: Bringing the Best of Brand Management to People at Work, UL: John Wiley & Sons Ltd, 214 pp., (ISBN: 0470012730)
Chowdhury, A. H., Chowdhury, M. S. A., & Imran, M. (2013). Branding strategies for service firms- a study on the selected Internet Service Providers (ISPs) in Bangladesh. Asian Business Review, 2(1), 47-53. https://doi.org/10.18034/abr.v2i1.122
Davies, G. (2008). "Employer Branding and Its Influence on Managers", European Journal of Marketing, Vol. 42, No. 5, p.667 – 681
Figurski, I., and Matuska, E. (2013). "Employer Branding as a Human Resources Management Strategy," The Human Resources Management and Ergonomics, Vol. 3, p.35-51
Foster, C., Punjaisri, K., and Cheng, R. (2010). "Exploring the Relationship Between Corporate, Internal and Employer Branding," Journal of Product & Brand Management, Vol. 19, No. 6, pp. 401 – 409
Gaddam, S. (2008). "Modeling Employer Branding Communication: The Softer Aspect of HR Marketing Management," The Icfai Journal of Soft Skills, Vol. 2, No. 1, pp.45-55
Kelly Services (2013). Building a Strong Employer Brand at all Times for Sustainable Organization. (Online) Available on: www.kellyservices.com.my.
Kotler, P. (1991) Marketing Management. 7th Edition, Prentice-Hall, Englewood Cliffs.
Martin, G., Gollan, P. & Grigg, K. (2011). "Is There a Bigger and Better Future for Employer Branding? Facing Up to Innovation, Corporate Reputations and Wicked Problems in SHRM," The International Journal of Human Resource Management, Vol. 22, No. 17, pp.3618-3637
Minchington, B. (2005) Employer Brand Leadership - A Global Perspective. Torrensville: Collective Learning Australia, 319 P. ISBN 978-0-646-53648-4
Morgan, R.M., and Hunt, S.D. (1994), "The Commitment-Trust Theory of Relationship Marketing," Journal of Marketing, Vol. 58, pp.20-38.
Moroko, L. & Uncles, M. (2008). "Successful Employer Brands," Brand Management, Vol. 16, No. 3, PP.160-175
Mosley, R. (2009). "Employer Brand: The Performance Driver No Business Can Ignore," Shoulders of Giants Publication.
Parmar, A. (2014). "The Role of Hr Department in Employer Branding at Public and Private Sector," Journal of Human Resources Management and Labor Studies. Vol. 2, No. 2, pp.201-225
Peters, T. (1999). "The Brand You 50: Fifty Ways to Transform Yourself from an Employee into a Brand that Shouts Distinction," Knopf Publishers, New York, NY.
Sullivan, J. (2004). The 8 Elements of a Successful Employment Brand. ER Daily. Retrieved on 14 January 2015 from http://www.ere.net/2004/02/23/the-8-elements-of-a-successful-employment-brand.
Supphellen, M. (2000). "Understanding Core Brand Equity: Guidelines for In-Depth Elicitation of Brand Associations," International Journal of Market Research, Vol. 42, pp.319-38.
The Conference Board, (2001). "Engaging Employees through Your Brand," New York.
--0--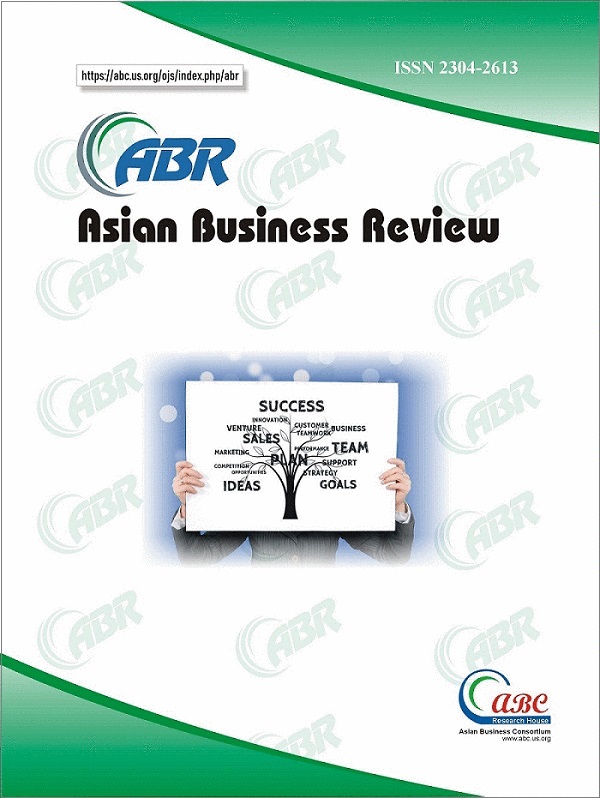 How to Cite
Akter, T. (2019). Employer Branding Strategy: An Empirical Study on Private Banks in Bangladesh. Asian Business Review, 9(3), 83–90. https://doi.org/10.18034/abr.v9i3.274
License
Asian Business Review is an Open Access journal. Authors who publish with this journal agree to the following terms:
Authors retain copyright and grant the journal the right of first publication with the work simultaneously licensed under a CC BY-NC 4.0 International License that allows others to share the work with an acknowledgment of the work's authorship and initial publication in this journal.
Authors are able to enter into separate, additional contractual arrangements for the non-exclusive distribution of the journal's published version of their work (e.g., post it to an institutional repository or publish it in a book), with an acknowledgment of its initial publication in this journal. We require authors to inform us of any instances of re-publication.