The Role of Marketing Mix Strategies on Brand Loyalty of Cable Products
Keywords:
Product quality, Price, Availability, Promotion, Brand loyalty
Abstract
This study was carried out with the intention of examining the role of the marketing mix on brand loyalty advertising and pricing play in building brand equity. The study focuses on a new cable brand (Belayab Cable) and attempts to find out the role of marketing mix elements on brand loyalty of Belayab Cable products. For this study, an accessible population of 62 Belayab Cable consumers who have used its products at least twice was selected randomly from stratified groups of three types of customers (Contractors, Traders, Electo Mechanical Engineers, and   Government,).  A structured questionnaire was used to collect data from respondents by using a self-administered data collection system. In addition to the questionnaire, semi-structured interview questions are prepared to get information from the organization which is analyzed qualitatively. The STATA is used to process the primary data which were collected through questionnaires.  The findings showed that the role of product quality, price, and availability has a positive and significant role in brand loyalty. On the other hand, the price has no significant role in brand loyalty for the cable of a brand. Therefore, in order to maximize the effectiveness of marketing activities and have more loyal customers in cable industry companies should pay more attention to product quality, availability, and promotions.
Downloads
Download data is not yet available.
References
Azar, S.F., Vanehabad, M.A., and Rasouli, R. (2011). Investigating the impact of marketing mix (4P) on increasing the sale of water heaters of Ghaynarkhazar Company. Journal of Beyond Management, 4(16), 79–106.
Bhattacherjee, A. (2012). Social Science Research: Principles, Methods, and Practices.
Charanah, J., and Njuguna, R.K. (2015). The Effects of Promotional Mix Tools on Brand Equity among Hospitals in Nairobi County, International Journal of Sales, Retailing and Marketing, Vol. 4, No. 6, 45-51.
Doaei, H., Kazemi, M., and Robat, S.M.H. (2011). Analyzing the influence of customers' perception of marketing mix on brand equity: The case of Razavi nutritive products. New Marketing Research Journal, 1(2), 93–104.
Gujarati, D.N. (2003). Basic Econometrics. 4th Edn., McGraw-Hill, New York, USA., ISBN: 0-07-233542-4, pp: 202-247.
Hosseini, S.K., and Rezvani, M. (2009). Fuzzy marketing mix modeling: A case study of automobile battery industry. Quarterly Iranian Journal of Trade Studies, 13(51), 241–277.
Ibomendel, M.A.R. (2008). Actual practices of marketing mix and its impact on customer loyalty. Master's thesis. Islamic University - Gaza, Palestine
Karbasi Var, A., Taheri Kia, F., & Band Pei, A. (2011). Investigating the relationship between selected marketing mix and brand equity factors through Acker method in order to increase market share in appliances industry: The case of Snowa Cmpany. Quarterly Journal of Management, 8(24), 29–43.
Kim, J. H., and Hyun, Y. J. (2011). A model to investigate the influence of marketing-mix efforts and corporate image on brand equity in the IT software sector. Industrial Marketing Management, 40(3), 424–438.
Kotler, P. and Keller, K.L. (2011). Marketing Management. 14th ed. New Jersy: Pearson Education, Inc
Krejcie, R.V., and Morgan, D.W. (1970). Determining Sample Size for Research Activities. Educational and Psychological Measurement, 30, 607-610
Lee, J. S., and Back, K. J. (2010). Reexamination of attendee-based brand equity. Tourism Management, 31(3), 395–401.
Low, J., and Bloisb, K. (2002). The evolution of generic brands in industrial markets: The challenges to owners of brand equity. Industrial Marketing Management, 31(5), 385–392.
Mula, J., Poler, R. and Garcia, J.P. (2006). "MRP with flexible constraints: a fuzzy mathematical programming approach," Fuzzy Sets and Systems, vol. 157, no. 1, pp. 74–97.
Nunnally, J. C. (1967). Psychometric theory. New York: McGraw-Hill.
Osman, H., Hemmington, N. and Bowie, D. (2009), "A transactional approach to customer loyalty in the hotel industry", International Journal of Contemporary Hospitality Management, Vol. 21 No. 3, pp. 239-250. https://doi.org/10.1108/09596110910948279
Sirohi, N., McLaughlin, E. W., and Wittink, D. R. (1998). A model of consumer perceptions and intentions for a supermarket retailer. Journal of Retailing, 74(2), 223-245. https://doi.org/10.1016/S0022-4359(99)80094-3
Wong, F.Y. and Sidek, Y. (2008) Influence of Brand Loyalty on Consumer Sportswear. International Journal of Economics and Management, 2, 221-236.
Yoo, B. and Donthu, N. (2001). Developing and validating multidimensional consumer-based brand equity scale. Journal of Business Research, 52, pp.1-14.
Yoo, B., Donthu, N. and Lee, S. (2000). An Examination of Selected Marketing Mix Elements and Brand Equity. Journal of the Academy of Marketing Science, 28(2), pp.195-211
--0--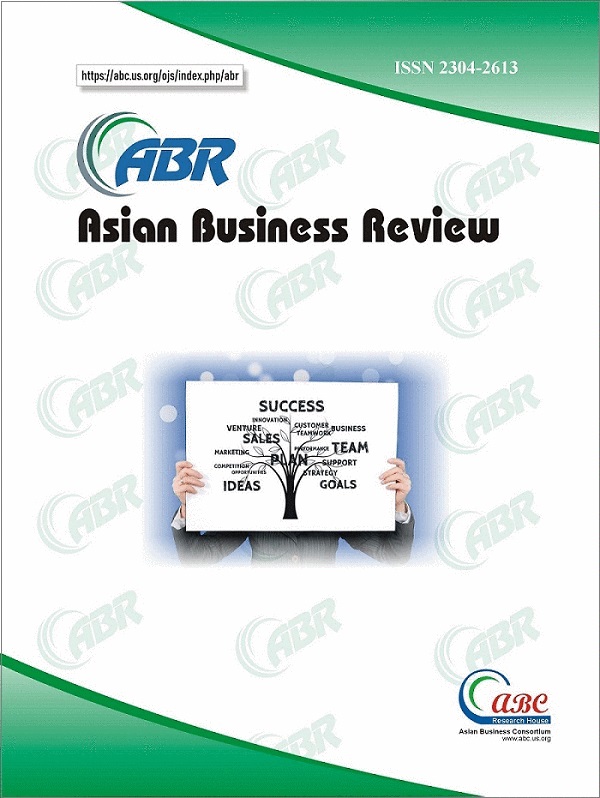 How to Cite
Weldemariam, T. ., & Ayele, Y. N. . (2020). The Role of Marketing Mix Strategies on Brand Loyalty of Cable Products . Asian Business Review, 10(2), 91–98. https://doi.org/10.18034/abr.v10i2.467
License
Asian Business Review is an Open Access journal. Authors who publish with this journal agree to the following terms:
Authors retain copyright and grant the journal the right of first publication with the work simultaneously licensed under a CC BY-NC 4.0 International License that allows others to share the work with an acknowledgment of the work's authorship and initial publication in this journal.
Authors are able to enter into separate, additional contractual arrangements for the non-exclusive distribution of the journal's published version of their work (e.g., post it to an institutional repository or publish it in a book), with an acknowledgment of its initial publication in this journal. We require authors to inform us of any instances of re-publication.