Gender Discrimination against Female Managers and Professionals in Sri Lankan Private Sector
Keywords:
Gender discrimination, Recruitment and Promotion, Sexual harassment, Work motivation, Productivity
Abstract
Gender discrimination and sexual harassment contradict with the rights of women protected by law and practices at private sector organizations in Sri Lanka that may limit the career advancement of female employees. Several empirical researches on gender discrimination confirmed the impact of gender discriminations and sexual harassments on work motivation and productivity. However, this debilitating effect on the motivation and productivity of the female managers and professionals in Sri Lanka has not seen any empirical conclusion. The purpose of this study is to explore the relationship between workplace gender discrimination and sexual harassment with employees works motivation and productivity. The study conducted by selecting 66 female employees (44 female managers/ professionals, 22 HR managers) as a sample from 22 medium and large scale organizations covering the Sri Lankan private sector. Both quantitative and qualitative analyses conduct on collected data through a self-administered questionnaire. The results confirmed the incidents of gender discrimination and sexual harassment are present in recruitment and promotions activities in the selected organizations. However, the results did not support the relationships between gender discrimination and the loss of motivation and productivity at work.  
Downloads
Download data is not yet available.
References
Adikaram, A.S. (2005) "Sexual Harassment among Women in the Banking Sector in Sri Lanka," Friedrich Ebert Stiftung Regional Cooperation in Asia and Sri Lanka Foundation, Colombo.
Adikaram, A.S., Gunewardena, C., & Perera, T. (2011). "Sexual Harassment in the Workplace: The Effect of Perpetrator Attributes and Recipient Attributes," Sri Lankan Journal of Management, 16, (3 & 4), pp 63-88.
Albrecht, J., Björklund, A., & Vroman, S. (2000). "Is There a Glass Ceiling in Sweden?" http://www2.aueb.gr/conferences/espe2001/pdf/Vroman%20S.,%20Bjorklund%20A.,%20Albrecht%20J..PDF
Alshatti, A.Q, Hameed A, & Waheed A. (2011) "Gender Discrimination & Its Effect on Employee Performance/Productivity," International Journal of Humanities and Social Science Vol. 1 No. 15 Special Issue.pp.170-176
Alvaredo, F., Atkinson, A. B., Piketty, T., & Saez, E. (2013). "The top 1 Percent in International and Historical Perspective," Journal of Economic Perspectives, Vol. 27(3): pp3-20.
Arulampalam, W., Booth, A. L., & Bryan, M. L. (2007). "Is there a glass ceiling over Europe? Exploring the Gender Pay Gap across the Wage Distribution," Industrial and Labor Relations Review, Vol 60 (2): pp163-186.
Arun, T. & Borooah, V. K. (2011). "The Gender Impact in Earnings Inequality: Evidence from Sri Lanka," International Journal of Economic Sciences and Applied Research, 4 (2): 71-80.
Balachandran, P. K. (2012). "Recognizing Sexual Harassment in Sri Lanka," Ceylon Today, November 28, 2012, http://www.ceylontoday.lk/59-18201-news-detail-recognizing-sexual-harassment-in-sri-lanka.html, accessed 15 May 2013.
Bennington, L. (2006). "HRM Role in EEO: Sheep in Shepherd's Clothing?," Journal of Business Ethics, 65(1): 13-21, Springer, http://www.jstor.org/stable/25123767, accessed 5 August 2011.
Bombuwela P. M., De Alwis A. Chamaru (2013). "Effects of Glass Ceiling on Women Career Development in Private Sector Organizations – Case of Sri Lanka," Journal of Competitiveness, Vol. 5, Issue 2, pp. 3-19
Channar, Z.A., Abbassi, Z and Ujan I.A. (2011). "Gender Discrimination in Workforce and its Impact on the Employees," Pakistan Journal of Commerce and Social Science, Vol.5 (1), pp.171-191.
Chaudhary, N., & Sharma, B. (2012). "Impact of Employee Motivation on Performance (Productivity) In Private Organization," International Journal of Business Trends and Technology- volume 2 Issue 4 - (p. 29-35)
Cordano, M., Scherer, R. F., & Owen, C. L. (2002). Attitudes toward women as managers: sex versus culture, Women, Management Review, 17(2), 51-60.
Gunawardana, K. (2017). Women Participation in senior management positions in licensed commercial banks in Sri Lanka https://papers.ssrn.com/sol3/papers.cfm?abstract_id=2932679http://doi.org/10.4038/sljss.v31i1-2.5464
Gunawardena, M. (2012). What Glass Ceiling? Colombo: Bay Owl Press
IFC (2013) Assessing Private Sector Contributions to Job Creation and Poverty Reduction: Findings on Gender, IFC Jobs Study: January 2013,http://www.ifc.org/wps/wcm/connect/Topics_Ext_Content/IFC_External_Corporate_Site/IDG_Home/JobCreation, accessed 15 May, 2013.
IMF (2013) "Women, Work, and the Economy: Macroeconomic Gains from Gender Equity," IMF Staff Discussion Note, International Monetary Fund (IMF), September 2013 (SDN/13/10).
International Confederation of Free Trade Unions (2004) "Report for the WTO General Council Review of Trade Policies of Sri Lanka," Geneva, 3 – 5 March 2004, http://www.icftu.org/www/pdf/srilankaclsreport2004.pdf, accessed 19 June 2011
Jayawardena, K. (2005). "The Paradox Island" in Marina Perera and Rasika Chandrasekera (eds), Excluding Women: The Struggle for Women's Political Participation in Sri Lanka, Colombo: Social Scientists' Association.
Jayaweera, S. (2008) Chandra Gunawardena and Indika Edirisinghe (CENWOR, 2008). "Beyond the Glass Ceiling: Participation in Decision Making in the Public Domain."
Kangaraarachchi, R. (2011). "Less Women in Senior Management Positions," Daily News, 28th February, http://www.dailynews.lk/2011/02/28/bus02.asp, accessed 14 March 2011.
Kirchmeyer, C. (2002) "Gender Differences in Managerial Careers: Yesterday, Today, and Tomorrow," Journal of Business Ethics, 37(1):5-24.
Marlar, J. & Mendes, E. (2013). "Globally, Men Twice as Likely as Women to Have a Good Job, Women's deficit in the "good jobs" market is biggest in South Asia," GALLUP, September 27th, https:// news.gallup.com/poll/164666/globally-men-twice-likely-women-good-job.aspx, accessed 13 October 2013.
McLaughlin, H., Uggen, C., & Blackstone A. (2017). "The Economic and Career Effects of Sexual Harassment on Working Women." Gender and Society 31 (3).
Mhlanga, M. P. (2016). "The Impact of Workplace Motivation on Employee Performance within the Ministry of Health in Swaziland," Texila International Journal of Management Volume 2, Issue 2
Ortiz-Ospina, Esteban and Roser, Max (2018). Economic inequality by gender, Our World in Data, https://ourworldindata.org/economic-inequality-by-gender
Risseeuw, C. (1991) "Transformation in Women's Access to Land and Property," Gender Transformation, Power and Resistance among Women in Sri Lanka, Manohar: New Delhi.
Shyamala, G. (2011). Gender Advisor at the United Nations in Sri Lanka in Daily News,
Silva, K.T., 2013. Beyond the glass ceiling: participation in decision making in the public domain by Swarna Jayaweera, Chandra Gunawardena and Indika Edirisinghe (CENWOR, 2008). Sri Lanka Journal of Social Sciences, 31(1-2), pp.65–67.
Society for Human Resource Management (2018). https://www.shrm.org/about-shrm/press-room/press-releases/pages/sexual-harassment-survey.aspx
Soomo P., Soomro F., Menmon M.S. (2015). "Gender Discrimination and its Impact on Employee Productivity/Performance" (A study on government universities of upper Sindh), International Journal of Management Science and Business Resreach, Vol 4 Issue 6, pp.36-40
Stella, M. I. & Goodfaith, O. (2016). "Effect of Gender Inequality on Corporate Performance - A Study of selected Banks in South East, Nigeria," Advanced Research Journal of Multi-Disciplinary Discoveries August/Vol.4.0/Issue-I
The Global Gender Gap Report 2013. Switzerland: World Economic Forum
The Global Gender Gap Report 2017. Switzerland: World Economic Forum.
The Global Gender Gap Report 2018. Switzerland: World Economic Forum.
Wentzel, K.R., & Wigfield, A. (2009). Handbook of Motivation at School Routledge, New York.
Wright, P. & Boswell, W. (2002). "Desegregating HRM: a review and synthesis of micro and macro Human Resource Management Research, "Journal of Management, 28:3, 247-276 A. S. (2015).
--0--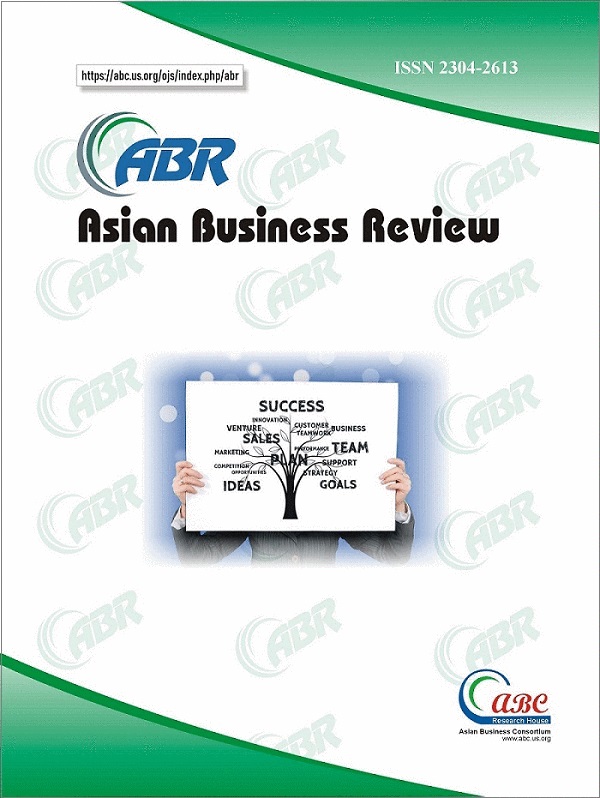 How to Cite
Dharmawardhane, I. M., & Navaratne, N. (2019). Gender Discrimination against Female Managers and Professionals in Sri Lankan Private Sector. Asian Business Review, 9(2), 57–64. https://doi.org/10.18034/abr.v9i2.253
License
Asian Business Review is an Open Access journal. Authors who publish with this journal agree to the following terms:
Authors retain copyright and grant the journal the right of first publication with the work simultaneously licensed under a CC BY-NC 4.0 International License that allows others to share the work with an acknowledgment of the work's authorship and initial publication in this journal.
Authors are able to enter into separate, additional contractual arrangements for the non-exclusive distribution of the journal's published version of their work (e.g., post it to an institutional repository or publish it in a book), with an acknowledgment of its initial publication in this journal. We require authors to inform us of any instances of re-publication.