Social Welfare and Poverty Reduction Activities of NGOs in Bangladesh: An Empirical Study
Keywords:
non-government organizations, poverty alleviation, social welfare, Bangladesh
Abstract
Bangladesh is both a developing nation and a medium-sized economic power. It is among the eleven market-based middle-income countries with the fastest expanding economies. It is the forty-second market-based economy on the planet in nominal terms and the thirty-first largest by purchasing power parity. According to the IMF, Bangladesh's economy is the second biggest country on an upswing in 2016, with an annual rate of 7.1%. Since the early 2000s, Bangladesh's poverty has unexpectedly decreased, accelerating economic growth. Non-governmental organizations (NGOs) actively contribute to the decline of extreme poverty in our nation. NGOs engaged in some charitable work and improved social welfare. This study's primary goal is to show how NGOs and their initiatives affect Bangladesh's social welfare and poverty reduction. Researchers have used primary and secondary data and powerful statistical tools to assess pertinent data to accomplish these goals. From the researchers' observations, data analysis, and findings, it is clear that NGO programs significantly promote social welfare and reduce poverty in Bangladesh.
Downloads
Download data is not yet available.
References
Achar, S. (2019a). Cloud-based System Design. International Journal of All Research Education and Scientific Methods (IJARESM), 7(8), 23-30. http://www.ijaresm.com/cloud-based-system-design
Achar, S. (2019b). Early Consequences Regarding the Impact of Artificial Intelligence on International Trade. American Journal of Trade and Policy, 6(3), 119-126. https://doi.org/10.18034/ajtp.v6i3.634
Ahsan Ullah, A. K. M., and Routray, J. K. (2007). Rural Poverty Alleviation through NGO Interventions in Bangladesh: How far is the Achievement? International Journal of Social Economics, 34(4), 237-248.
Ahsan, A. H. M. K. (2005). Role of NGO's micro-credit program in poverty reduction in Bangladesh: A study on some selected NGOs. Pakistan Journal of Social Sciences, 3(8), 1053-1059.
Alam, M. W., Shakil, M. H., Azam, M. K. G., & Tasnia, M. (2014). The Role of Social Business in Environmental Protection through Poverty Alleviation. Global Disclosure of Economics and Business, 3(2), 185-198. https://doi.org/10.18034/gdeb.v3i2.163
Awan, A. G. (2011). Changing World Economic and Financial Scenario. Asian Accounting and Auditing Advancement, 2(1), 47–76. https://doi.org/10.18034/4ajournal.v2i1.15
Bangladesh Economic Review. (2018). Finance Division, Ministry of Finance, Government of Bangladesh, P-209.
Bassey, N. (2008). Contribution by the NGOs Major Group Sector on Africa and Sustainable Development. United Nations, New York Working Paper No 3.
GOB. (2010). Analysis of Basic Needs Dimension of Poverty. Volume III, Bangladesh Bureau of Statistics, Government of Bangladesh.
Haider, S. K. U. (2011). Genesis and growth of the NGOs: Issues in Bangladesh perspective. International NGO Journal, 6(11), 240-247.
Hassan, A. B. M. E. (2015). NGOs and Their Implications in Promoting Social Development in Bangladesh: An Overview. Sociology, and Anthropology, 3(1), 24–36,
Ibrahim, H. A. (2017). NGOs' and Development Work in Developing Countries: A Critical Review. American Journal of Innovative Research and Applied Sciences. 5(1), 1-6.
Karim, R., Tania, S., and Farazi, M. R. (2012). Role of Micro-credit in Poverty Alleviation of Rural Poor: Evidence from Laxmipur District of Bangladesh. Journal of Business and Technology (Dhaka), 7(2), July- December, 37-55.
Kumar, D., Hossain, A., & Gope, M. C. (2013). Role of Micro Credit Program in Empowering Rural Women in Bangladesh: A Study on Grameen Bank Bangladesh Limited. Asian Business Review, 3(2), 106-112. https://doi.org/10.18034/abr.v3i2.94
Mercer, A., Khan, M. H., Daulatuzzaman, M., Reid, J. (2004). Effectiveness of an NGO primary health care programme in rural Bangladesh: evidence from the management information system. Health Policy and Planning, 19(4), 187–198. https://doi.org/10.1093/heapol/czh024
Moulick, R. K., & Neogy, T. K. (2020). Present Scenario of Small and Medium Enterprises (SMEs) in Bangladesh: An Evaluation. Asian Accounting and Auditing Advancement, 11(1), 7–24. Retrieved from https://4ajournal.com/article/view/60
Norman, H. & Nie. (1975). Statistical Package for the Social Sciences. New York: McGraw- Hill International Edition.
Ohagwu, O., Hassan, Z. bin H., & Carlo, D. P. (2021). Reducing Unemployment, Poverty and Promoting Empowerment through Skills Acquisition (TVET): A Case Study of Returnee Migrants. Asian Journal of Humanity, Art and Literature, 8(1), 33-42. https://doi.org/10.18034/ajhal.v8i1.548
Ramakrishna, H. (2013). The Emerging Role of NGOs' in Rural Development of India: An Assessment. International Journal of Social Science & Interdisciplinary Research, IJSSIR, 2(4), 43–51.
Rezaul, I. R. (2015). NGOs' Social Capital Development Initiatives for Social Welfare: Bangladesh Experience. Glob Soc Welf, 2, 167–176.
Stephen M, S, Nyathi D., and Hofisi, C. (2015). Non-Governmental Organizations and Rural Poverty Reduction Strategies in Zimbabwe: A Case of Binga Rural District, Journal of Governance and Regulation, 4(4), 59-68.
World Bank. (1990). Bangladesh Strategies for Enhancing the Role of Women in Economic Development. A World Bank Country Study, Washington: WB
World Bank. (2015). The World Bank's Strategy for Reducing Poverty and Hunger. Environmentally Sustainable Development Studies, Monograph series, (No.4), 3.
Yamane, T. (1967). Statistics, an Introductory Analysis. 2nd Ed., New York: Harper and Row. P- 886.
--0--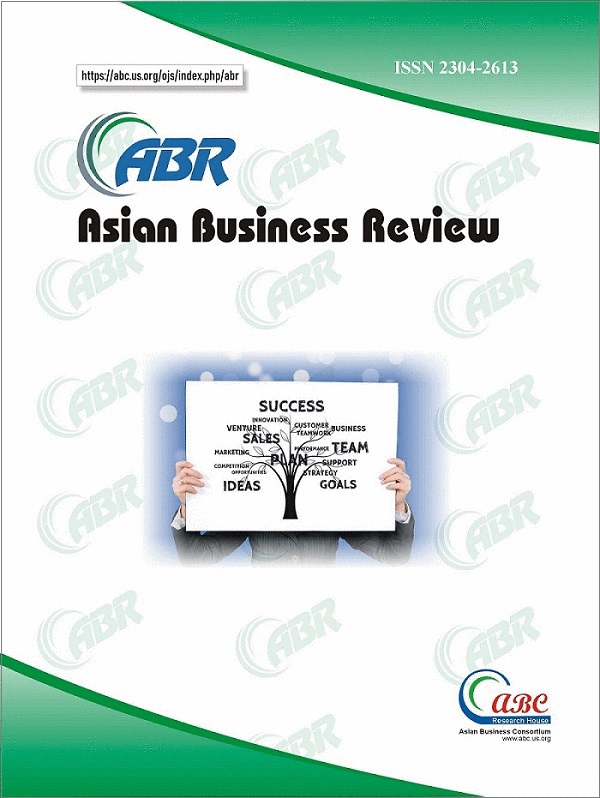 How to Cite
Sultana, S., & Uddin, M. N. (2022). Social Welfare and Poverty Reduction Activities of NGOs in Bangladesh: An Empirical Study. Asian Business Review, 12(2), 45–50. https://doi.org/10.18034/abr.v12i2.635
License
Asian Business Review is an Open Access journal. Authors who publish with this journal agree to the following terms:
Authors retain copyright and grant the journal the right of first publication with the work simultaneously licensed under a CC BY-NC 4.0 International License that allows others to share the work with an acknowledgment of the work's authorship and initial publication in this journal.
Authors are able to enter into separate, additional contractual arrangements for the non-exclusive distribution of the journal's published version of their work (e.g., post it to an institutional repository or publish it in a book), with an acknowledgment of its initial publication in this journal. We require authors to inform us of any instances of re-publication.