The Socio-Economic Effects of Medical Unions Strikes on the Health Sector of Akwa Ibom State of Nigeria
Keywords:
Health workers, Strike, Socioeconomic, Nigeria, Akwa Ibom, Medical unions
Abstract
This study was a cross-sectional descriptive survey conducted with the general objective to describe the socioeconomic effects of medical union strikes on Nigeria's health sector, with particular focus on Akwa Ibom State. Four research questions were formulated that guided the study. Data were collected from respondents who constituted staff, medical students and patients of Akwa Ibom State public hospitals. These formed the population of the study while 150 individuals were randomly selected as sample size. Double sampling technique was adopted while simple random sampling method was used to achieve the purpose of adopting it. The instruments used for data collection was survey questionnaire and oral interview with a tape recorder. The criterion-related validity and test-re-test reliability were methods adopted to test for the validity and reliability of research instruments. The data collected were analyzed using descriptive analytics techniques such as frequency distribution, measures of central tendency, percentages and measures of dispersion. From the analysis, it was revealed that the incessant health workers strikes are fundamentally caused by poor remuneration, denial to salary review and non-payment of accrued salaries. It was also seen that negative socioeconomic effects of which the major ones included avoidable deaths, poor health complications and disease spread outweighed the positive socioeconomic effects which were salary review, payment of accrued wages, provision of medical equipment and improved welfare of health workers. This was viewed in terms of their impacts on the economic indices of the nation. The study recommends among other things that government should pay health workers salaries regularly and improved infrastructure of health centres to enhance service delivery. On the other hand, workers should make demands that are moderate and not beyond the capacity of their employers and should provide certain essential services while on strike.
Downloads
Download data is not yet available.
References
Abuza, E.A. (2016). A Reflection on Regulation of Strikes in Nigeria. Commonwealth Law Bulletin, 4(2), 3-7.
Adalsteinsson, G.D. (2007). Can Strike Theories Introduced in 1960s and 1970s Explain Different Levels of Strike Trends in the Nordic Countries in 1980s and 1990s? Working papers series, Institute of Business Research, University of Iceland.
Adegun, A.A. (1977). Strikes and Institutionalization of Labour Protest: The Case of Nigeria. Proceedings of Seminar on Third World Strikes, Institute for Social Studies, The Hague, pp. 1-30.
Alkerman, A. and Tolenvlied (2017). Effect of Industrial Conflict between and within Organizations: Contagion in Collective Bargaining and Deterioration of Work Relations. Paper presented at the Annual Meeting of the Dutch and Flourish Political Science Associations, Leuven, May 27-28.
Chikanda, A. (2004). Skilled Health Professionals Migration and its Impacts on Health Delivery in Zimbabwe. Working paper No.4, Centre on Migration, Policy and Society, University of Oxford.
Chima, S.C. (2013). Global Medicine: Is it Ethical or Morally Justifiable for Doctors and Health Workers to go on Strike? Medical Ethics, 14(1), 1-10.
Eyo, E.B. and Francis, D.A.I (2017). A Colloquy on Violence and Non-violence: Towards a Complementary Conflict Resolution. American Journal of Social Issues and Humanities, 7(2), 137-150.
Kelly, J.E. and Nicloson, N. (1980). The Causation of Strikes: A Review of Theoretical Approaches and Potential Contribution of Social Psychology. Human Relations, 339(12), 83-88.
Oleribe, O.O., Ezieme, I.P., Oladipo, O., Akinola, E.P., Udofia, D. and Taylor-Robinson, S.D. (2016). Industrial Action by Healthcare Workers in Nigeria in 2013-2015: An Inquiry into Causes, Consequences and Control – a Cross-sectional Descriptive Study. Human Resources for Health, 14(46), 1-10.
Owoye, O. (1994). Wage Determination and Strike Activity in Nigeria. Journal of African Economics, 3(3).
Todaro, M.P. and Smith, S.C. (2012). Economic Development, 11th ed. Boston: Addison-Wesley.
Umo, J.U. (1993). Economics: An African Perspective. Lagos: Millennium Text Publishers Ltd.
--0--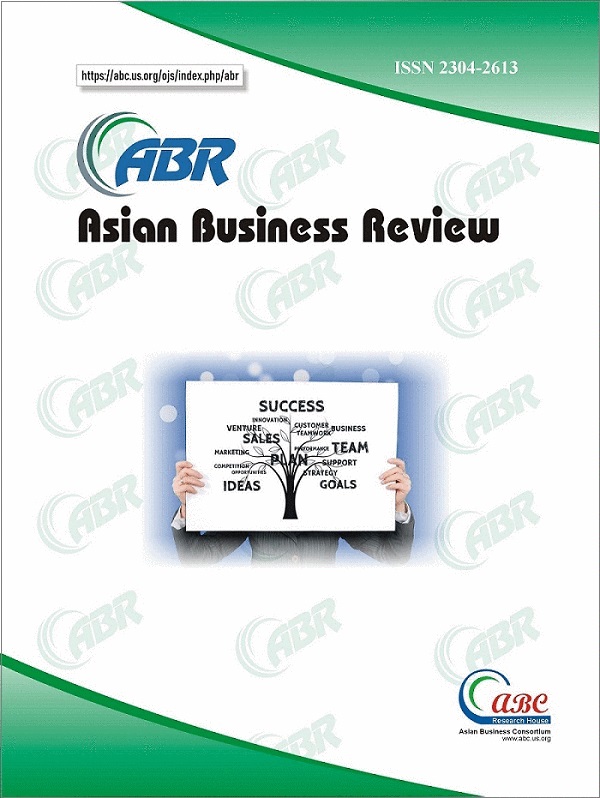 How to Cite
Essien, M. J. (2018). The Socio-Economic Effects of Medical Unions Strikes on the Health Sector of Akwa Ibom State of Nigeria. Asian Business Review, 8(2), Art. #12, pp. 83–90. https://doi.org/10.18034/abr.v8i2.157
License
Asian Business Review is an Open Access journal. Authors who publish with this journal agree to the following terms:
Authors retain copyright and grant the journal the right of first publication with the work simultaneously licensed under a CC BY-NC 4.0 International License that allows others to share the work with an acknowledgment of the work's authorship and initial publication in this journal.
Authors are able to enter into separate, additional contractual arrangements for the non-exclusive distribution of the journal's published version of their work (e.g., post it to an institutional repository or publish it in a book), with an acknowledgment of its initial publication in this journal. We require authors to inform us of any instances of re-publication.