Non-fungible Token, Market Development, Trading Models, and Impact in China
Keywords:
Meta-verse, NFT, Trading, Block-chain, Cryptocurrency, Web 3.0, China economy
Abstract
Many people, including rapper Snoop Dogg, actor William Shatner, Paris Hilton, Lindsay Lohan, Grimes, and Emily Ratajkowski, are enthusiastic about how Non-fungible tokens (NFTs) will bring value to create many beautiful arts for easy collection and trade in the dynamics of the art market. According to the OpenSea market estimates, the NFT projects available in the different blockchain is worth roughly 840 million US$. NFTs recently received enormous attention from both cryptocurrency investors and the media; even billionaire Elon Mask posted a Meme on his Twitter account and bought the sale of meme NFT for $19800. The biggest economic power that banned cryptocurrency last year, China, made a formal supportive statement to back NFT booming in the whole country. Suddenly, the red power realized the transaction order of the meta-verse system; the tokenized economy is an undoubted benefit for the living style of the current generation. Although the concept of NFTs is very new, trading activities are moving extremely fast in China. An exhibition like "Virtual Niche" can take up to three years to organize in the rest of the world, but it took just a few months in the second biggest superpower China, Beijing. Eventually, this new form of entity will make it easier and more capacitive for the Chinese style of politics, economy, and culture to stand strong in the world for thousands of years. This thesis will introduce the current NFT market development, trading models, and impact in China. With no hesitation, this time, China has entered the era of "everything can be NFT".
Downloads
Download data is not yet available.
References
Andy, S. & Tian, Z. (2022). China's NFT market in 2022: The most comprehensive analysis guide. Enly Bee. https://www.enlybee.com/the-most-comprehensive-report-to-chinas-nft-market/
Benzinga Newsdesk. (2022, Jan 26). 'China introduces state-backed NFT platform unlinked to cryptocurrencies' -Tuesday South China Morning Post Report. https://www.benzinga.com/markets/cryptocurrency/22/01/25236369
Bernstein, C. (2021). 5 business use cases for NFTs. TechTarget. https://www.techtarget.com/whatis/feature/5-business-use-cases-for-NFTs
Buterin, V. (2014). A next-generation smart contract and decentralized application platform. Blockchain Lab. https://blockchainlab.com/pdf/Ethereum_white_paper-a_next_generation_smart_contract_and_decentralized_application_platform-vitalik-buterin.pdf
Cai, W., Wang, Z., Ernst, J. B., Hong, Z., Feng, C. and Leung, V. C. M. (2018). Decentralized Applications: The Blockchain-Empowered Software System. IEEE Access, 6, 53019-53033. https://doi.org/10.1109/ACCESS.2018.2870644
Chaturvedi, A. (2022). Top 13 types of NFTs: Here's the complete list. Business Today. https://www.businesstoday.in/crypto/story/top-13-types-of-nfts-heres-the-complete-list-328335-2022-04-02
Cheng, K. (2021). NFT is not cryptocurrency, Ant Group says amid crackdown. Nikkei Asia. https://asia.nikkei.com/Spotlight/Caixin/NFT-is-not-cryptocurrency-Ant-Group-says-amid-crackdown
Christidis, K. and Devetsikiotis, M. (2016). Blockchains and Smart Contracts for the Internet of Things. IEEE Access, 4. 2292-2303. https://doi.org/10.1109/ACCESS.2016.2566339
Crypt News 10. (2022). China's NFT Plans Are a Recipe for the Government's Digital Control. https://cryptonews10.com/chinas-nft-plans-are-a-recipe-for-the-governments-digital-control/
DeNicola, L. (2022.) What to know about non-fungible tokens (NFTs) - unique digital assets built on blockchain technology. Personal Finance. https://www.businessinsider.com/personal-finance/nft-meaning
Economy Weekly. (2021). '90's entrepreneur found Paititi, promised to be the biggest NFT trading platform in Asia. https://www.edigest.hk/284288
Feng, C. (2022). China to create own NFT industry based on state-backed blockchain infrastructure, main developer says. South China Morning Post. https://www.scmp.com/tech/policy/article/3163094/china-create-own-nft-industry-based-state-backed-blockchain
Global Times. (2021). First official NFT issued in China for 2022 Asian Games. https://www.globaltimes.cn/page/202109/1234525.shtml
Google Data Studio. (2020). RMB, USD, Cryptocurrency, U.S stock market, U.S real estate market, NFT China, NFT worldwide worth.
Liu, M. L. (2021). Preliminary exploration of China's NFT development path: legal currency settlement is the core point, circulation and copyright protection regulations need to be improved. 21st Century Business Herald.
Muzzy, E. (2018). Crypto Kitties Isn't About the Cats. Medium. https://medium.com/@everett.muzzy/cryptokitties-isnt-about-the-cats-aef47bcde92d
Nakamoto, S. (2008). Bitcoin: A Peer-to-Peer Electronic Cash System. Bitcoin. https://bitcoin.org/bitcoin.pdf
New, C. (2022). Behind the first NFT infringement case in China: big verse NFT has a maximum listing of 2 billion yuan. https://copyfuture.com/blogs-details/202204221126069009
Nez, F. (2022). What Are NFTs and How Will They Change the World?. FrankNez. https://franknez.com/what-are-nfts-and-how-will-they-change-the-world
Notheisen, B., Cholewa, J. B. and Shanmugam, A. P. (2017). Trading Real-World Assets on Blockchain. Business & Information Systems Engineering, 59(6), 425–440.
Quiroz-Gutierrez, M. (2022). Crypto is fully banned in China and 8 other countries. Fortune. https://fortune.com/2022/01/04/crypto-banned-china-other-countries
Schultze, U. and Avital, M. (2011). Designing interviews to generate rich data for information systems research. Information and Organization, 21(1), 1–16. https://doi.org/10.1016/j.infoandorg.2010.11.001
Shen, T. (2022). Asian Games in Hangzhou to sell torch NFTs supported by Alipay. Forkast News. https://forkast.news/headlines/2022-asian-games-hangzhou-torch-nfts-alipay/
Sparango, B. (2018). The Rise of Non-Fungible Token Assets. Medium. https://medium.com/coinmonks/the-rise-of-non-fungible-token-assets-7fdb4bbb8ad7
Stehlik, P. & Vogelsang, L. (2018). Privacy-Enabled NFTs: Self-Mintable Non-Fungible Tokens With Private Off-Chain Data. Github. https://github.com/centrifuge/paper-privacy-enabled-nfts/releases/download/v1.01/paper-privacy-enabled-nfts.pdf
Szabo, N. (1994). Smart Contracts. https://bit.ly/2rLG2Nr
Technavio. (2022). Non-fungible Token (NFT) Market Size to grow by USD 147.24 billion. https://www.prnewswire.com/news-releases/non-fungible-token-nft-market-size-to-grow-by-usd-147-24----technavio-301529125.html
Weston, G. (2021). NFTs and Their Role in the "Metaverse"'. 101 Blockchain. https://101blockchains.com/nfts-and-metaverse/
Wu, J. (2022). China's NFT market: Who are the major players, and what makes them different?. TechNode. https://technode.com/2022/03/15/chinas-nft-market-who-are-the-major-players-and-what-makes-them-different/
Xu, C. (2022). How Does China View NFTs and What Are its Market Prospects? China Briefing. https://www.china-briefing.com/news/how-does-china-view-nfts-and-what-are-its-market-prospects
Xu, S. (2022). A Look into China's NFT Market. The ORG. https://theorg.com/iterate/a-look-into-chinas-nft-market
Yang, Z. Y. (2021). Can NFTs happen in a crypto-less China? Amazingly, yes. Protocol. https://www.protocol.com/china/china-nft-crypto-workarounds
--0--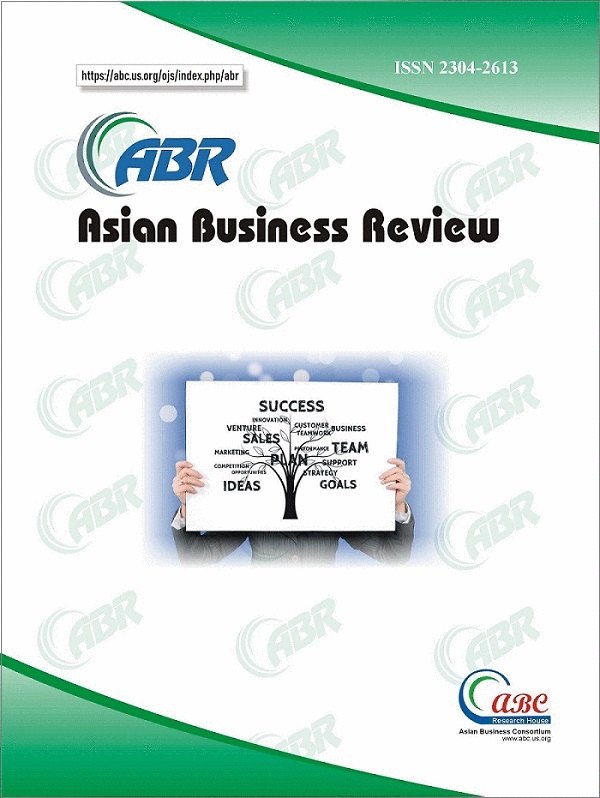 How to Cite
Tong, A. (2022). Non-fungible Token, Market Development, Trading Models, and Impact in China. Asian Business Review, 12(1), 7–16. https://doi.org/10.18034/abr.v12i1.607
License
Asian Business Review is an Open Access journal. Authors who publish with this journal agree to the following terms:
Authors retain copyright and grant the journal the right of first publication with the work simultaneously licensed under a CC BY-NC 4.0 International License that allows others to share the work with an acknowledgment of the work's authorship and initial publication in this journal.
Authors are able to enter into separate, additional contractual arrangements for the non-exclusive distribution of the journal's published version of their work (e.g., post it to an institutional repository or publish it in a book), with an acknowledgment of its initial publication in this journal. We require authors to inform us of any instances of re-publication.